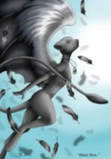 Offline
Raw19
Fics Statistics
Stories Uploaded:

10

Reviews Posted:

29

Num Favorites:

38
When Ash is infected by a rare and deadly virus, he only has one week to live. Will a cure be found and will Ash confess his true feelings to Misty, before it's far too late?

Take a brief peek into the Valley of the Pidgeot. A great place to visit....but, I wouldn't want to live there.

~ This is something my messed up brain came up with one morning and it wouldn't leave me alone until I wrote it down. >_< ~

The tale of one whose many hardships makes him decide to give up on love. But, this Valentine's Day, there are those in the world who would rather see him happy, as well as see him suffer even more.
Show all
The completed story of Bangam Academy of Sexual Intercourse and Survival Book 1. On a island of a large lake is a castle that stands tall and proud. Here Bangam the Absol established a school for helping to train young Pokemon in the ways of survival, both in the wild and in the bed room. Mystical and wonderes things await those who attend, but this school is not a simple place and there are more going on behind the scenes than any of the students, teachers and even its Headmaster and founder know. 

A proud Arcanine takes on a high rank guild mission against her guildmaster's wishes. Has Sasha taken more than she can handle?

 

 

This story is also available on Furaffinity. My name on Furaffinity is Foxirus.

Set around the time of Episode 61.  Ash, Misty, and Brock are at a gathering of trainers outside of Cerulean City.

Charizard wins a battle, reminisces to raping Brock's Vulpix, then, through a mishap, gets to take Misty away and have some time with her to himself.

Quadruple-tap, 2X each:

M/F (Charizard/Vulpix), M/F (Charizard/Misty)
Show all